---
Location
---
Easy to cross to neighboring countries
Our factory is located on the East-West Economic Corridor (EWEC) across the Indochina Peninsula.
We are in the special economic zone, Savan Park Industrial Park.
It is easily accessible by land to Thailand and Myanmar to the west and Vietnam to the east.
---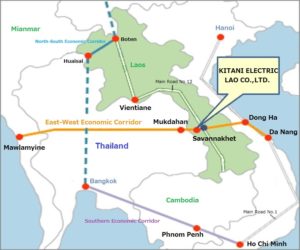 <Address>
Lot 317, Savan-SENO Special Economic Zone C (Savan Park) KM 10, Route No 9, Nongdeun Village,
Kaysone Phomvihane District, Savannakhet Province, 13000, LAO PDR.
Only 2 km to the Thai border!
<Second Thai–Lao Friendship Bridge>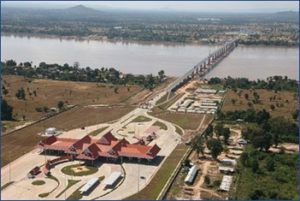 Only 5 km to the International Airport!
<Savannakhet Airport>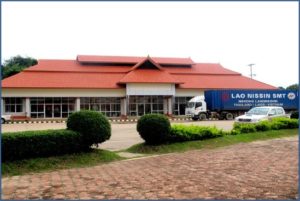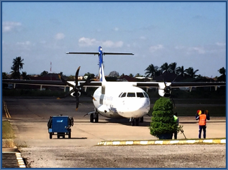 How to access us from Thailand
Currently no direct flight from Thailand to Savannakhet.
2 Routes that you can choose are
Route 1 International flight route
This route will travel by Laos International Airlines.
Laos Airlines operates four to five flights per week. Although the number of flights may change slightly depending on the season.
Route: Suvarnabhumi International Airport ⇒ Pakse International Airport ⇒ Savannakhet International Airport ⇒ Transfer by our car (arrive to our factory in about 10 minutes)
*This route is relatively easy to travel.
Route 2 Domestic route
This route will travel by Air Asia.
Air Asia has daily flights. Therefore you can travel every day.
Route: Don Mueang Airport ⇒ Nakhon Phanom Airport ⇒ Limousine bus (ride time: about 2 hours) ⇒ Mukdahan border ⇒ Transfer by our car (about 10 minutes to our factory)
* This route may take a long time to travel.